An overview of public assemblies and harassment following the gatherings February 2022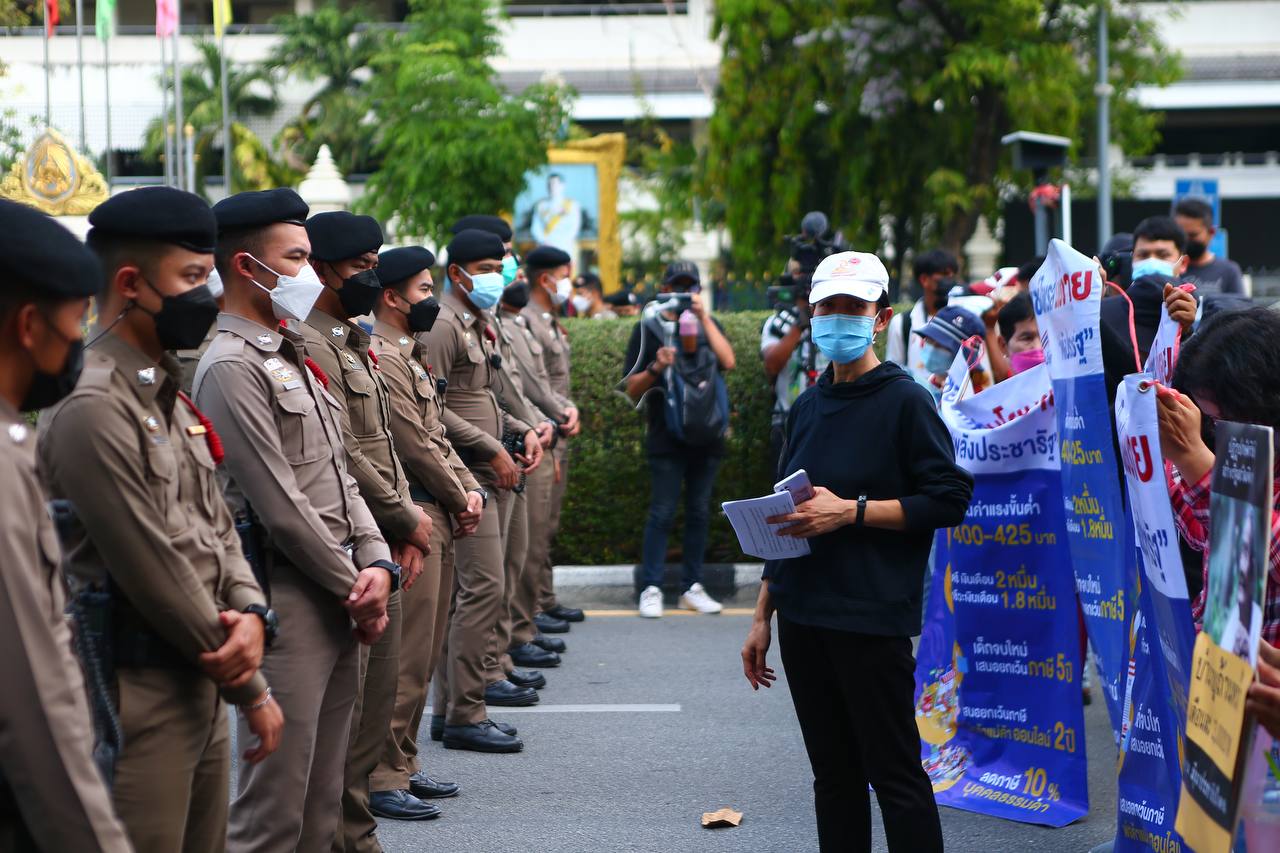 # Public Assemblies and Harassment following the public gatherings and expression in February 2022
# Overall Situation of the Public Assemblies
Owing to the outbreak of Omicron in January 2022, Thailand was hit by the fourth wave, although no stringent measures were imposed as in 2021. On 25 January 2022, the Government Gazette published the Announcement on the extension of the duration of emergency in all vicinities in the Kingdom (16th time) to until 31 March 2022 signed on 24 January 2022. It has extended the period of state of emergency in Thailand to nearly two years. The prevailing Omicron outbreak has affected people economically. Meanwhile, people who have exercised their right to freedom of expression and freedom of assembly have been charged for violating the Public Administration in Emergency Situations B.E. 2548 (2005). According to the Thai Lawyers for Human Rights, just for 2021**, at least 1,244 have been charged for violating the Emergency Decree in over 542 cases.**
In February 2022, 4 political prisoners are remanded in custody, some have been detained for over six month While 14 suspects have been released including a 16 -year-old-youth on 14 February after having been confined at Ban Metta since 25 September 2021 for 144 days. Four Ratsadon protest leaders have all been granted bail including Parit "Penguin" Chiwarak, incarcerated since 9 August 2022, freed on 24 February 2022 until 24 May 2022, Jatupat 'Pai' Boonpattararaksa, incarcerated the same day as Penguin, freed on 10 February 2022, Panupong "Mike" Chadnok, incarcerated since 23 September 2021, freed on 11 February 2022 and Arnon Nampha, incarcerated since 11 August 2021, freed on 28 February 2022 until 28 May 2022.
The exercise of freedom of assembly and freedom of expression took place all over the country in at least 104 incidences including public assemblies on economic and pernicious labor affect because of the Covid-19 pandemic and the performance of the government as well as the declaration of the state of emergency and the enforcement of the Public Administration in Emergency Situations B.E. 2548 (2005) to criminalize people who expressed themselves politically. The campaign to demand the right to bail to pollical prisoners was done chiefly through the Stand Stop Detention in front of the Supreme Court every day, at the Bangkok Remand Prison, at Tha Phae Gate and Chiang Mai University and in front of the Ubonratchathani University at least 69 times. The petition campaigns to urge people to sign up to repeal the Penal Code's Section 112 were held at least seven times. Meanwhile, public assemblies by the Royalists continued along with the campaign to demand the repeal of Section 112. Two assemblies were held by the Royalists in February to show their loyalty to the monarchy by attending the national anthem and by handing a letter demanding the government expel Amnesty Thailand.
Meanwhile, thanks to significant issues in international relations due to the special military operation of the Russian President, Vladimir Putin, in Ukraine, it has triggered demonstrations in various countries including Thailand. The protesters expressed themselves symbolically via signs that read "No war in Ukraine" for example in front of the Russian Embassy on 25 February 2022.
Public assemblies have been held to pressure the government to address issues concerning the economy, labour and indigenous rights since January 2022 including those by the People's Movement for Just Society (P-Move) and the Save Bang Kloi and Bang Kloi Returning Home group who have staged a sit-in protest in front of the Government House since January to demand the government accept their 15 recommendations to address issues concerning state welfare, and land and resource management. They have since returned home after the government has accepted the recommendations.
Nevertheless, in the aftermath of their public assemblies, members of the P-Move and the Save Bang Kloi and Bang Kloi Returning Home have been charged for violating the Emergency Decree prompting them to take to the street again in February against the prosecutions. The Network of Indebted Peasants of Thailand has had a sit-in protest in front of the Ministry of Finance to demand the government address and solve indebtedness among the group's members. They have marched to the Office of Farmer's Reconstruction and Development Fund and the Government House to follow up on relief program for peasants. Later on 1 March 2022, the cabinet approved advance money in emergency to the Farmer's Reconstruction and Development Fund for two billion baht and promised to raise the issue during the next cabinet meeting. In addition, other groups including the Triumph Labour Union, Rangsit Labour Union, and the Land Transportation Association of Thailand have mobilized to make their demands on labour and economic issues. Meanwhile, the Workers' Union has been launched on 27 February 2022 during the Worker's Fest at the Bangkok Art and Culture Centre (BACC) with an aim to advocate for economic, political and workplace change to minimize inequality and ensure justice in a democracy.
Campaigns to sign petitions to repeal the Penal Code's Section 112 continued countrywide including the #WeSayNoTo112 event in Chiang Mai. Meanwhile, activities concerning the monarchy including a straw poll conducted in public places continued unabated during the graduation ceremonies. In February, such straw polls in which passersby were asked to put a sticker to express their opinion on, i.e., when the royal motorcade makes people suffer or not, happened in Bangkok and in front of the Chiang Mai University. The Ratsadon Chiang Rai conducted a poll in Chiang Rai asking people about their opinion on the monarchy, i.e., to whom the supreme power belongs in this country, and if you can choose, who would you like to receive your diploma from during the graduation ceremony?
In addition, in the province, campaigns have been held for people to sign petitions to support equal marriage in Chiang Mai, Sakon Nakhon, and Phuket. The Korat Movement also organized an activity to demand the government solve the economic woes.
Thanks to an increase in activities related to the monarchy, incidences of harassment against activists have also been on the rise during and after the activities. For example, on 8 February 2022, the Thalu Wang Group were slated to conduct a straw poll about the reaction to the royal motorcade at the Siam Paragon. During the activity on Section 112, the Thalu Wang Group's freedom of expression was stifled as the security guards blocked their access to the fountain area and threatened to sue them for damages and to take other legal actions since their activity was conducted without permission. Attempts were made to prevent passersby from putting their stickers on the paper. In addition, the officers even tried to snatch the paper and the police nabbed a female activist, before letting her go. They put iron barricade in front of the Sra Pathum Place. Two activists from Free Phuket were approached by plainclothes officers engaging them in a chat while they were about to hold the signs to express their opinions at the Hat Yai Walking Street, Hat Yai. The activists were asked to remove the word 'institution' from the signs.
In addition, participants were also subject to harassment after the events. For example, a 17-year-old-female youth activist was visited by two plainclothes officers who showed her photo while participating in an activity by the Thalu Tai Group. They threatened her family to ask her to stop her activity claiming it may violate the Emergency Decree. An activist from Krabi No More Group revealed that plainclothes officers followed him to his office, probably related to how he expressed his opinion during an activity #MonarchyReform at the Green Way Market in #Mob5Feb22. Bam (last name withheld) said two plainclothes police holding her photo and asking her neighbors about her have eventually gone to her home when she was outside for some business. It stemmed from her watching the royal motorcade activity by the Thalu Wang Group.
Situation of prosecution
Despite the stall of public assemblies and a decline of prosecutions due to the dwindling public assemblies, activities have been held to demand an amendment of Section 112, i.e. by the Thalu Wang Group which invited passersby to put stickers to express their opinions about the royal motorcade and the Thalu Tai Group which demands a repeal of Section 112, etc. Such activities have prompted the police to harass them during and after the activities. Overall, they have often been summoned to answer to the charges after the activities.
According to the Thai Lawyers for Human Rights, from 18 July 2020 to 28 February 2022, at least 1,787 individuals have been charged for participating in political activities and expressing their political opinions in 1,027 cases. Of this, there are 274 youth under 18 years of age.
This month saw at least the charging of four new youth, although no new youth have been arrested including;
Male youth was accused of violating the Emergency Decree in the Mob of 4 September 2021, a member of Thalu Gaz was accused of participating in the assembly and a participant of Mob of 10 September 2021 was accused of violating the Criminal Procedure Code's Section 215 and the Emergency Decree.
Three youth, two with 17 years of age and one with unknown age were accused of violating the Emergency Decree, the Penal Code's Section 385, the Amplifier Act, the Land Traffic Act, the Communicable Disease Act, for participating in the "Showing Solidarity to Demand Justice" during the New Year Countdown in front of the Bangkok Remand Prison.
In comparison with the stats from the end of January 2022, the number of persons charged has increase by 20 in 18 cases (counting only those who have not been charged before). Several activists also face fresh charges. As a result, some have accumulated over 20 legal cases from their political activities including Parit "Penguin" Chiwarak who has been charged in 54 cases (including disposed cases). 23 of them are charges concerning Section 112.
# Situation of harassment
Despite the recess of public assemblies, a slew of harassment against political activists has continued unabated, particularly during the visits of VIPs or royal family members. This would subject local activists to stringent surveillance. Nevertheless, several activists have been subject to harassment with no known reasons.
February saw at least 35 people subject to the police harassment including the following incidents;
# Harassment during the visits of VIPs
During 2-7 February, at least nine activists were subject to the police harassment related to the visit of Princess Sirindhorn to Nakhon Sawan on 7 February. Members of the Nakhon Sawan Technical College Students and the Nakhon Sawan Students Front for Democracy disclosed that the local police have followed and harassed them threatening themselves and their immediate friends, particularly their parents. At least eight activists were subject to the harassment. One of them was a 17-year-old-youth, 'Bos', and activist member of the Ko Phi Rue Dictatorship, Udonthani. The police came to his house telling him to stay away from politics. Previously, the authority came to ask for him in his neighborhood. Petch Dung Din had the police come to take photo at his home.
Phimchanok Jaihong revealed that 7-8 plainclothes police officers and with 14-15 backup forces stood and block the mouth of the alley to her house in Nakhon Sawan asking if she was the admin of 'Draconis Revolution' facebook page or not and asking her to have a talk at the police station. As they said she was not under arrest, she refused to go with them and would only go if an arrest warrant was issued against her. The police continued to encircle her forcing her to get into their minivan. On the same day, Bo-se, an 18-year-old-male student was slapped in his face by the police as he refused to get off his motorbike and sit on the ground. They threatened and accused him of using drug and even dared him to report the case to the police.
In addition, in Chiang Mai, Chiang Rai, and Phayao, at least three people was subject to harassment during the visit of royal family members to preside over graduation ceremonies. This included approaching them in person and other forms of harassment against the activists during the visits. Some made themselves visible during the harassment, while others just followed the activists from afar. In various instances, the targeted activists were apparently not organizing any activity. Some were followed when they were on vacation. Some were approached even though they were a friend of the students who participated in the graduation ceremonies. Moreover, some were immensely affected by the officers' harassment including being asked to move to another dormitory.
# Harassment for unknown reasons
This month saw several activists being subject to harassment with no known reasons. For example, the activists of Thalu Wang Group had their names and personal information exposed in Dr.X page without their permission.24 And it was the first time plainclothes police have clearly gone to visit Bai Por Thalu Wang Group at her home. 25 Sai Nam, a youth activist, had three dozens of police officers raided his home with search warrant and seized his electronic devices with a writ from the Criminal Court to allow the authority to gain access and copy data from the devices. The officers then left without pressing any charge against him and simply said the raid was initiated as some reported that Sai Nam was an admin of Thalu Wang Group facebook page which caused panic to his parents.
A former female activist in the East was visited at her home by five or six plainclothes police officers. Nattakorn or 'Beam', a youth activist, was visited at his condominium where he lived with his family by a man clad in T-shirt and sports pants while wearing a crop haircut. He was standing outside the door for a while claiming to be a police detective from Thong Lor Police Station and was there to ensure safety of him and his family. A female youth reported the case to the Chok Chai Police Sation that more than two dozen of the police officers, claiming to come from "Special Branch", have approached to talk to her family at night claiming they were "visiting" her. The officers kept asking for her personal information, her political opinions and her sources of income.
In addition to activists, members of the public have also been subject to harassment. Samchai Srisan, Thammasat University's Faculty member posted in facebook that a black Vios Toyota with license plate of Uttaradit pulled over opposite to his house for a long time, and then headed out for lunch and came back in the afternoon. It happened like his for two weeks already. From cctv footage, the driver wore a crop haircut.
# Trend of harassment in upcoming March
Compared to documentation of harassment in January, within two months, at least 83 individuals were subject to harassment.31 The trend is not looking to ease. February also saw harassment against several activists during the royal motorcade or the graduation ceremony presided over by royal family members, followed by harassment against activists while organizing campaign to repeal Section 112. Even the participants in these events have been a target of harassment. Meanwhile, harassment with no known reasons against youth activist has increased steadily.
Therefore, it could be projected that the harassment in March will continue to rise opposite to the decline of public assembly. Any political activities even organized by a small group or by an individual have constantly become a target of the authorities, particularly any issues related to Section 112 which is still a sensitive issue to the government. As a result, the police have enough forces to conduct such harassment against activists to prevent them from organizing any future political activities.