An overview of public assemblies and harassment following the gatherings March 2022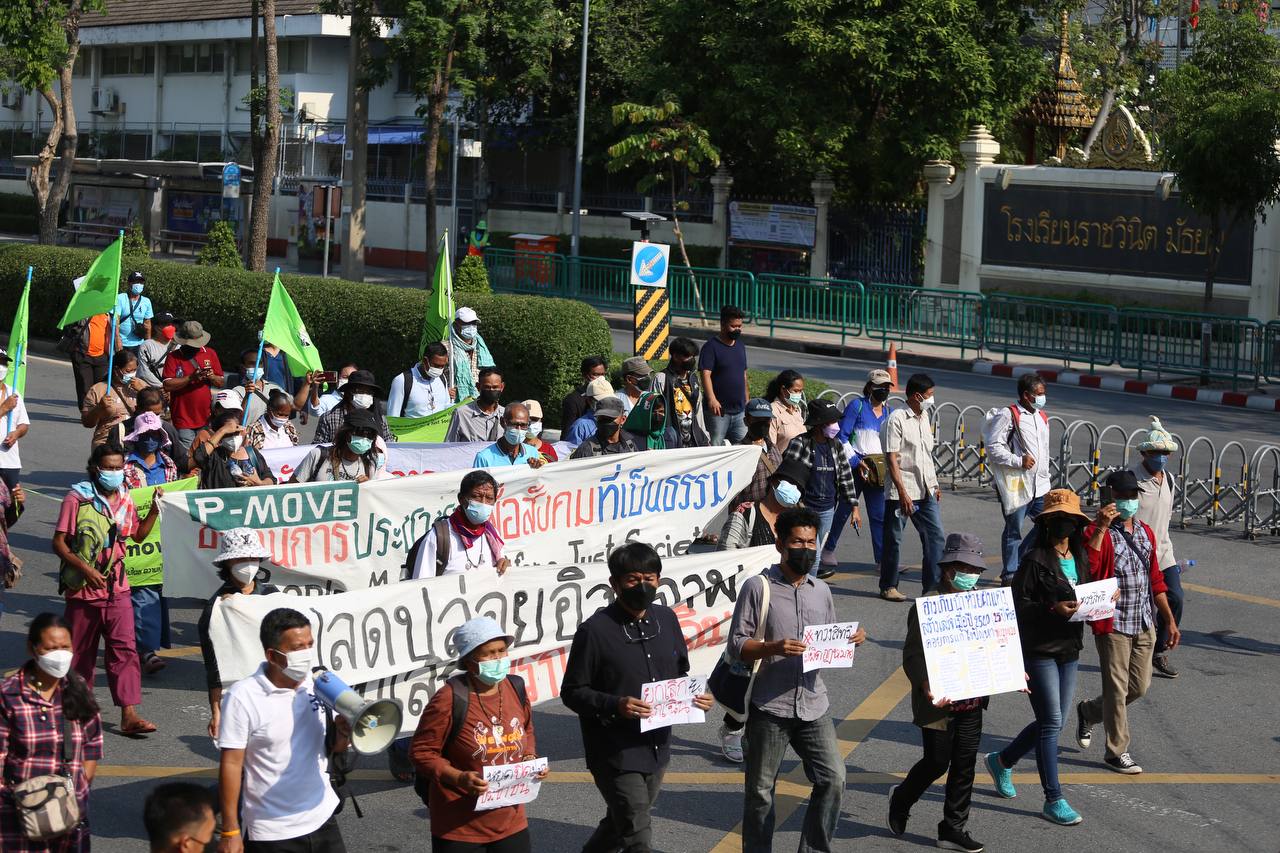 # Public Assemblies and Harassment following the public gatherings and expression in March 2022
# Overall Situation of the Public Assemblies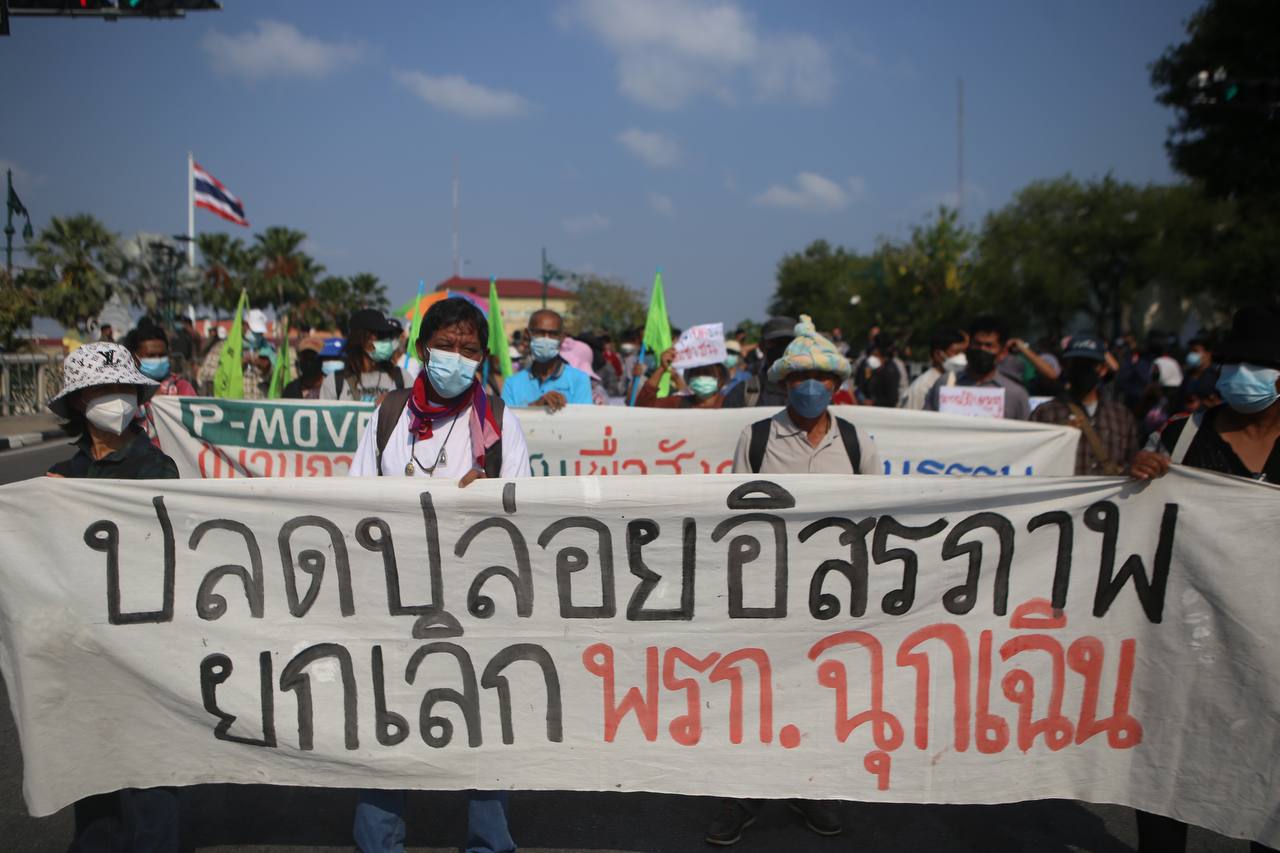 At least 32 public assemblies occurred in March 2022, a decrease of more than a half of the number in February 2022. They took place in small scale public assemblies focusing on freedom of expression. Most of them were related to political and economic issues including the demand of the right to bail and showing their solidarity to political activists and a commemoration of the death of Mana Hongthong because of the police crackdown on public assemblies in March. They also demanded the government to address economic woes, showed their stand in support of Ukraine and the conducting of straw polls on the monarchy by the Thalu Wang.
According to Mob Data Thailand, in March 2022, at least two arrests were made during the activities to express opinions including some activity during the royal motorcade on 5 March 2022. Thantawan, an activist, was livestreaming via facebook during the passing of motorcade which has resulted in her being arrested and charged for an offence against Penal Code's Sections 112, 138, second paragraph for resisting or obstructing an official, 368 for disobeying an order of an official, and an offence against the Computer Crime Act. On 18 March 2022, Get Mok Luang Rim Nam was arrested by at least ten officials in plainclothes and uniforms at the Victory Monument after participating in the crowd during the royal motorcade. He was taken to and held in custody at the Narcotics Suppression Bureau and was not allowed to contact his friends or relatives. In addition, according to the arrest memo, the official indicated that Get was a political activist and showed his dissent toward the monarchy by holding a paper which read "We are ready to live with the monarchy that can be spoken about, questioned, and criticized. Long Live His Majesty." The arresting police claimed that the statement showed dissent toward the monarchy. In order to preempt any disruption or turbulence in the area, the arresting police deemed his action inappropriate, and it might interfere with the arrangement to ensure safety and honor of the King. Get was later pressed with an offence against Penal Code's Section 368 "being informed of an order of an official given according to the power invested by law but refuses to comply with the same without any reasonable cause or excuse."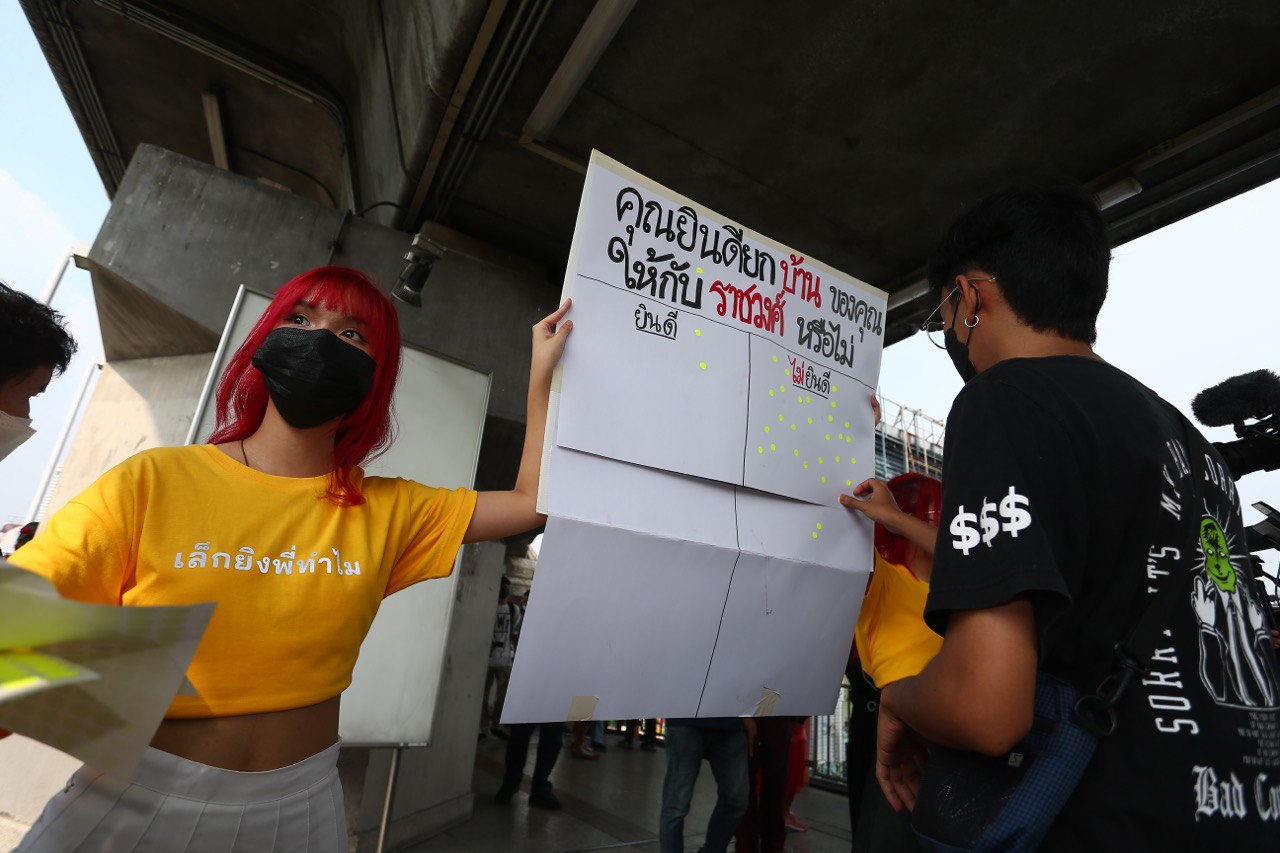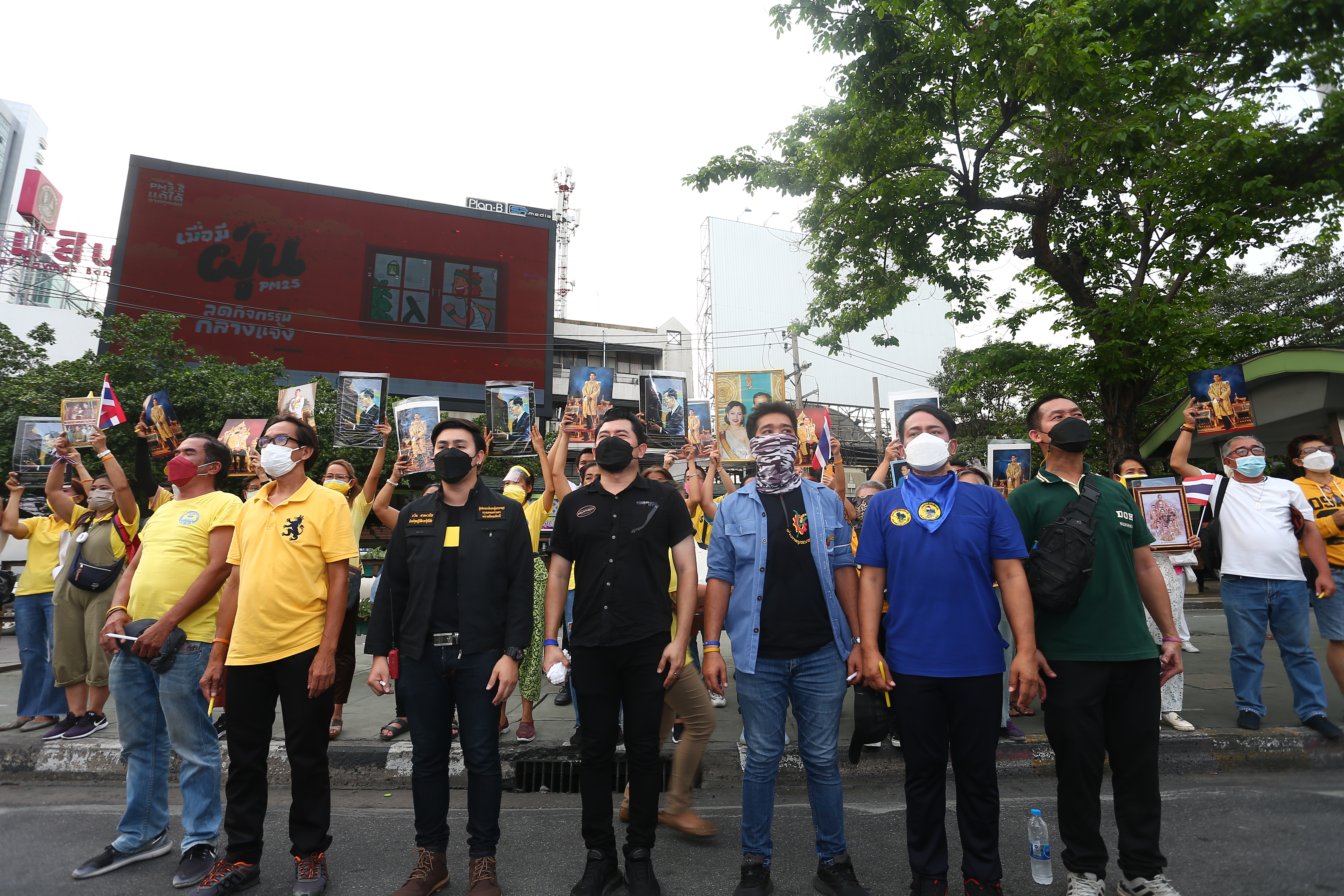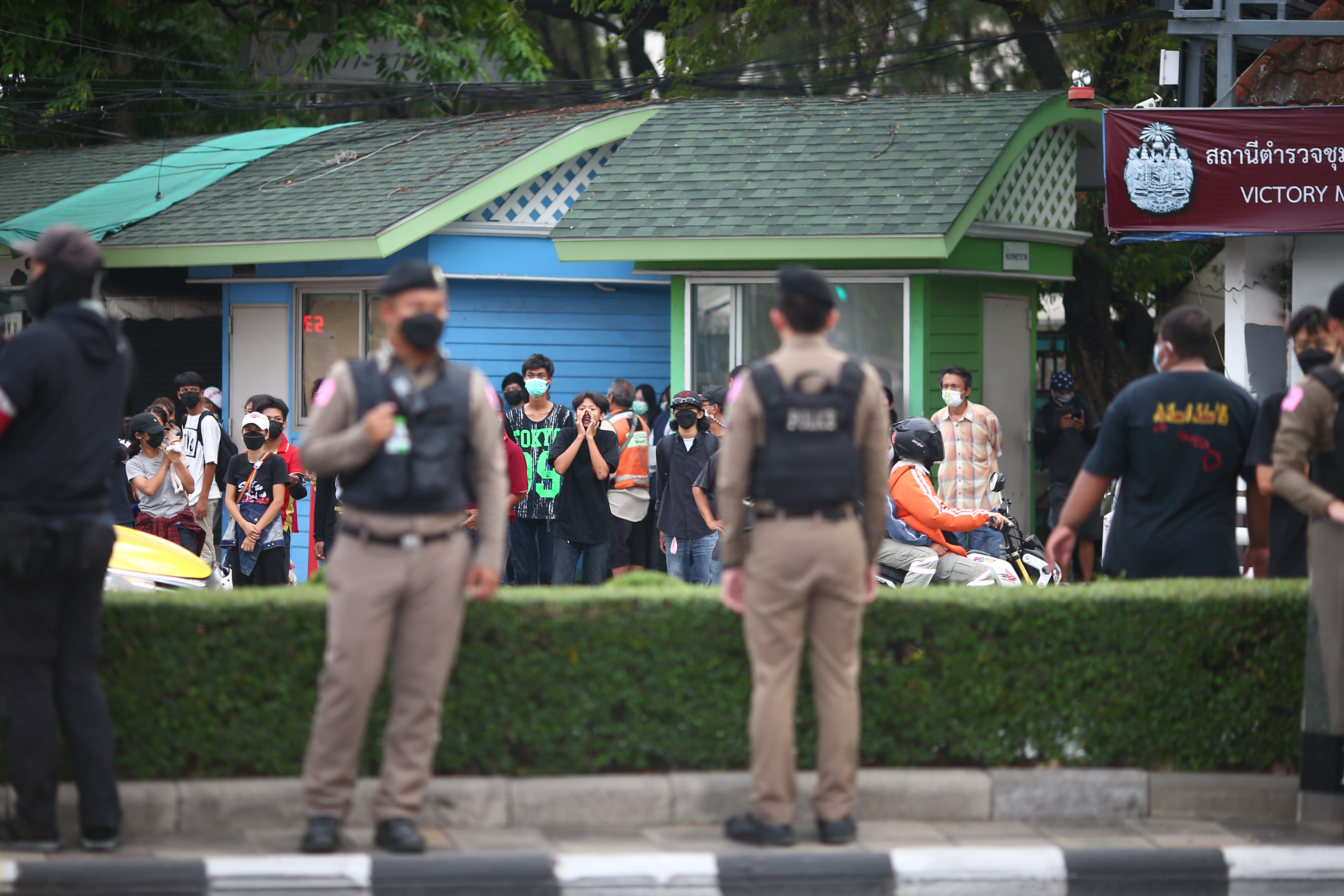 Two groups of gatherings occured on 13 March 2022 at the same spot; Thaluwang (first picture) did the public poll relevant to the monarchy and r the People United to Protect the Monarchy were marched to do a symbolic activity such as singing national or royal anthem.
Despite a small number of attendants in each public assembly, it focused on an action related to the royal motorcade and issues concerning the monarchy. It has prompted the authorities to tighten their measures to heavy-handedly crack down on any attempt to express oneself. Nevertheless, violence committed by the officials who used force to suppress their expressions asides, some violence has ensued clashes with the pro-monarchists, the incidence of which warrants monitoring. Lately, the pro-monarchist groups have taken to the street since 13 February 2022 under the People United to Protect the Monarchy. With their allies, these people have gathered to do their activities including singing the national and royal anthems in the public including at the Skywalk, Pathumwan intersection for the first time, to express their loyalty to the monarchy. Afterward, they agreed to gather on the 13th day of each month and continued to change its venue. On 13 March 2022, they announced they would gather at the Victory Monument almost at the same time with the Thalu Wang which planned an action at the same place. The Thalu Wang was conducting another straw poll inviting passerby to put a sticker to answer their question "Are you willing to offer your home to the monarchy?" It has led to a fierce standoff between the two groups, although some members of the groups tried to prevent any clashes. From our monitoring, no one got injured from the incidence.
In addition, in March, Mr. Maha Hongthong, who was hit in his head with rubber bullets during the crackdown on the public assembly at the Samliam Din Daeng Intersection on 15 August 2021, has died on 5 March 2022 after being bed-ridden for more than half a year. On 31 March 2022, according to the Cross Cultural Foundation (CrCF), his relatives and attorneys from the Human Rights Lawyers Alliance have reported the case to the inquiry officials of the Din Daeng Police Station to incriminate against the police and concerned individuals.
# Situation of harassment
Despite a decease of the number of public assemblies, public harassment continued unabated with at least 30 individuals being subject to harassment due to various reasons as follows;
# Harassment during visits of prominent figures
This month saw the police visiting parents of five activists who are members of the Korat Movement and accusing their children of being engaged in activity related to the monarchy. It caused concern for the families even though the activists were actually calling out the government for their failure to address the problems of the people and to demand the repeal of Section 112. It was possible that their harassment has stemmed from the impending visit of Princess Maha Chakri Sirindhorn to Nakhon Ratchasima on 4 March. Five other activists of the same group were also arrested by the police in the premises of the Rajamangala University of Technology Isan, the Nong Rawiang Learning Center when Princess Maha Chakri Sirindhorn was presiding over a graduation ceremony, even though they have not yet done anything. They were taken from the University to the Chaloemphrakiat Police Station and their phones were sized. They were held in custody there until 11.00, before being fined for disobeying the order of an official for 2,000 baht each and being released at 19.00. Jatuporn "New" Sae-Ng, a political activist, received a call from the police in Burirum who informed her about the forthcoming visit to Korat of Princess Maha Chakri Sirindhorn and asked where she was. As New refused to give them an answer, the police threatened to report to his superior officials that New refused to act in compliance. They even threatened to send police to her home and her boyfriend's home. Suppakarn, aka "Nueng", a member of Ratsadon Chaiyaphum, reported that plainclothes police visited him at home. They came with a watchlist of about 30 individuals. There were also reports of youth under 18 years old being harassed at home as well. All these have stemmed from the impending royal motorcade in Chaiyaphum. Wittayakorn Sowat from Philadelphia Bookstore, Ubon Ratchathan, revealed that plainclothes police have gone to his bookshop informing him that they were there to "take photos and submit to their superior officials". He thought it could be related to the forthcoming visit of a prominent figure to the province this month.
There were also reports of at least three youth under 18 years old including Tonnam (pseudonym), a 17-year-old-member of the Ratsadon Chaiyaphum. He was subject to harassment by public officials who visited him at his home while he was not there. His moth asked the officials to call him on phone to ask for information and to warn him against doing anything during the time when Princess Maha Chakri Sirindhorn was to visit Nakhon Ratchasima without disclosing his affiliation. "Wave" Theerayuth, a 15-year-old-youth, received a call from the police and was told to remove his facebook post which said "Thailand's strength: A democratic country with the King as Head of the State, Thailand's weakness: With the King as Head of the State". The police warned him that he was under the radar of various authorities. A 13 -year-old-girl was followed by over 40 officials who tried to take her photo and approached her while she was trying to participate in the crowd awaiting the royal motorcade toward the Grand Palace. When she asked why the officials had to harass her, the officials replied, "Watch yourself" and they continued to keep harassing her by riding on motorbike and parking outside her residence. Three or four police officials came to inquire about her at her home even though she has never been pressed with any charge. The police claimed she was among those under a watchlist since on 6 March 2021, she participated in the #Mob6March "Dumping garbage in front of criminal court". They even threatened that "Watch yourself for what you have done in the mob." And in another case, Ice, a 14-year-old-youth activist was harassed by around six plainclothes officials who came in a pickup truck to their home to introduce them to the newly appointed Superintendent and took photo of his home. They also tried to ask for their parents' phone numbers causing panic to many neighbors. Since Ice was not at home, the police told their family they would return in the afternoon. Ice therefore decided to wait for the police at the mouth of the Soi to talk to them. The officials claimed they wanted to check in their living condition and told them that "Tomorrow, could you not be around the royal motorcade?" Ice replied that they had no plan to travel there, then the police just left.
# Harassment during political activities
This month saw at least two acts of harassment and arrests of activists while organizing their activities related to the monarchy. Thantawan "Tawan" Tuatulanon, an activist of Thalu Wang, was surrounded by a number of police officials in plainclothes and uniforms who tried to prevent her from livestreaming just before the arrival of the royal motorcade on the Ratchadamnoen Nok Rd. She was then apprehended and taken into a police van by women police. She was later pressed with charges, including an offence against Section 112. The officials claimed what she said during her livestreaming when she was arrested echoed content which "discredited" the King. Sophon "Get" Suraritdamrong, a member of Mok Luang Rim Nam, was arrested by about ten police officials in plainclothes and uniforms at the Democracy Monument after trying to participate in the crowd awaiting the royal motorcade. He had in his bag a sign which read "We are ready to live with the monarchy that can be spoken about, questioned, and criticized. Long Live His Majesty" and was later charged for disobeying the order of officials. His sign was seized, and the police even asked to have a urine test on him claiming "a normal person would not think about doing this."
Despite not related to the monarchy, there has been a public assembly held by peasants to call on the government to address peasants' indebtedness. They were also subject to harassment by the officials. Sai, owner of the twitter handle @Thamboon888 helps to look after older persons in the demonstration asking for donation to buy them food. She revealed how the police drove to and monitored her at her restaurant. They have gone to ask the peasants about her name claiming they wanted to know this since she brought there a lot of donated items. In addition, the activists from Youth Volunteers who approached to help the peasants and conducted a poll asking if we should continue hiring this government or not had their photo secretly taken by police detectives who claimed to just do it out of their personal interest.
# Harassment for unknown reasons
Several activists have been subject to harassment for unknown reasons, particularly activists campaigning on the monarchy including Thantawan "Tawan" Tuatulanon who was followed by a dozen of officials in plainclothes and uniforms from her home to various destinations. When asked by her and her friends, the officials refused to identify themselves and then got off the car and fled into the Dusit Kwaeng Court. Boong, an activist from Thalu Wang was visited at her home by two plainclothes police officials who claimed to be there to deliver her a summon by hand, even though she had already answered to the charge and posted bail for the case. They tried to ask her family members to sign a document and asked for phone numbers of her parents. They threatened that if they refused to sign the paper, they would "apply for her arrest warrants". They stayed put at her home for nearly an hour before pulling out. Baipor Thalu Wang was also followed by plainclothes police, even when she was in the toilet. The officials claimed they were following her IG handle and have even made some sexual remarks, i.e., by saying that "I would wanna see you off at your room."
Earn, an artists and monarchy activist using her art works in Khon Kaen had her residence raided by plainclothes officials with unknown affiliation. They tried to apprehend her without informing her of their affiliation. The Superintendent of the Moung Khon Kaen Police Station, however, said that they were police officials from agencies in Bangkok and Earn was invited for an attitude adjustment and questioned about her opinions and attitudes as well as her activism. They have even had access to her mobile phone's data and copied the online data traffic. Although no charge was pressed against her, a memo was prepared pertaining to "plausible reasons" that an offence against Penal Code's Section 112 has been committed. Narin revealed that after he was convicted in a case related to Section 112, he has since been subject to heightened harassment and following. Some unknown persons drove their cars around his residence asking his neighbors if they knew him. Lately, the police asked his neighbors to tell his mother that please allow the police to do their job and offer her a pack of chicken essence.
Sam Samet was raided at his residence by two dozen of police with a prisoner transport vehicle while he was away for unknown purpose and aims. They did not even show any warrant. Dew, an activist from unknown group was visited by police at his home since he had participated in a pollical assembly. Charnvit Kasetsiri, former President of Thammasat University, reported that four individuals who looked like plainclothes police officials and identified themselves as police but failed to disclose their affiliation, have asked security officers at his condominium if he was home at the time. As the security officer said he was not there, they asked him to take them to the elevator and went up to Charnvit's room. They took photo of his room and explained that they had to monitor Charnvit since he had been involved with political activists. "Narong" (pseudonym), who used to participate in political assemblies and was charged in 2021, was subject to surveillance of the officials who claimed there was an outstanding arrest warrant for him from his previous cases. It happened when he went back to his hometown and the Assistant to the Village Headman approached him and asked for his phone number. The Assistant told him he was asked by the police since they wanted to have his phone number to contact him about some legal cases. The police also drove their vehicles around in his neighborhood seven or eight times. They even followed him and took his photo when he went out fishing with his friends.
In addition to direct harassment against activists, two police officials have gone to Same Sky's booth during a book fair held at the Bang Sue Central Station. The publishing house was told to remove clothe banner featuring political hashtags (#) prominently used during the public assemblies led by youth in 2020-2021. The officials claimed the statements could be "offensive" raising some examples of them, particularly the hashtag on "despotic government." Two plainclothes officials who identified themselves as coming from the Krathumban Police Station without disclosing their names, have gone to the residence of Kanya Theerawut (mother) and asked if this was Siam Theerawut's house, even though Siam had been disappeared for over three years. They asked to take her photos before leaving. This visit could be made in anticipation of the events on the 3rd anniversary of his enforced disappearance together with two other political exiles in Vietnam since 8 May 2019. 31 October also marks his birthday. In the past two years, the officials have often surveilled his house.
# Harassment Trend in April
In March, a 13-year-old girl was harassed related to the royal motorcade even though she was not there to organize by political activities. It was the harassment by the public officials against the youngest person of this year. The harassment against children and youth continue to warrant close monitoring since from our documentation on public harassment this year, it has been found many children and youth have been subject to such harassment every month. All activists or participants in public assemblies, regardless of their age or if they were leaders of the campaigns or not, are vulnerable to police's harassment. Issues concerning the monarchy continue to be a lightning rod prompting harassment against the people. Even when there is no royal motorcade, the activists involved with monarchy campaigns have often been a target for harassment by the authorities.
Therefore, it is anticipated that harassment will continue to increase in April as opposed to the decline of public assemblies. Activists even from small groups or even a lone activist involved in political activities can be a target or surveillance by public officials, particularly if their activities were related to Section 112. It is possible that more harassments have stemmed from that there has been a decrease in public assemblies and the police have to remobilize their resources to commit harassment against activists to preempt any future political activities.